 Urban Field Station Collaborative Arts Program
Brought to you by USDA Forest Service, The Nature of Cities, and Partners
We build understanding of and engagement with urban social-ecological systems through arts.
We facilitate trans-disciplinary collaboration between artists, scientists, and land managers.
We curate events and public programs that explore ideas emerging from these collaborations.
Current Artists for 2021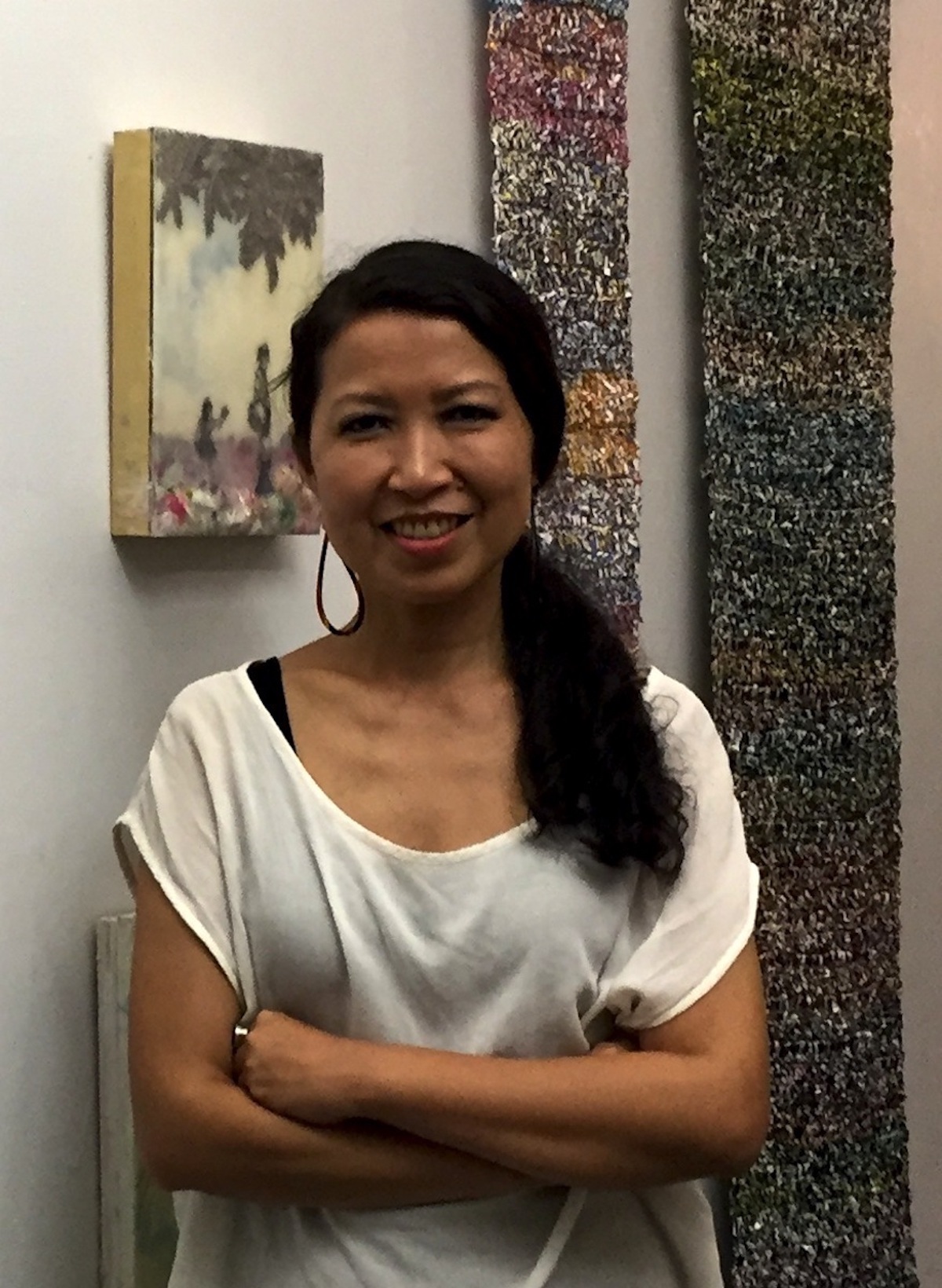 Cecile Chong
BIOGRAPHY
Ecuadorian born, New York based multimedia artist working in painting, sculpture and installation, layering materials, identities and histories. Her work addresses ideas of culture interaction and interpretation, as well as the commonalities humans share both in our relationship to nature and to each other. She received an MFA from Parsons, MA from Hunter College and BA from Queens College.
Cecile will work with GreenThumb, New York's Partnership for Parks; and New York Parks Public Engagement.
Proposal Summary: To research the connection between New York City parks and their surrounding immigrant communities. To find out how different immigrant groups utilize city parks and how the parks' social-ecological systems change due to this interaction.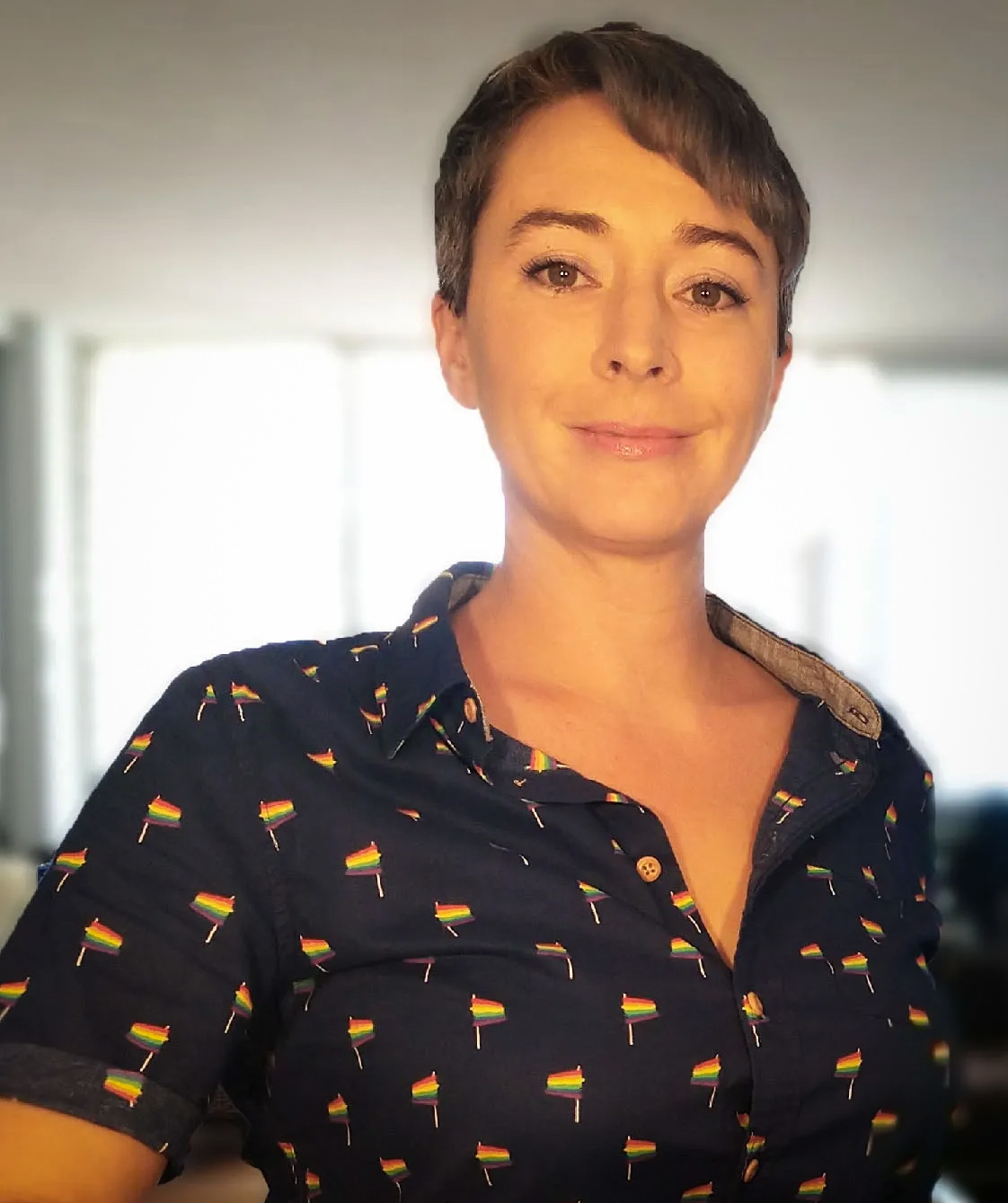 Sharon Heitzenroder
BIOGRAPHY
Sharon Heitzenroder is a feminist, artist, activist, and educator. Much of her work deals with issues related to mental health, gender, and disparities perpetuated by systems of power. She received her MFA from the San Francisco Art Institute, and her BFA from Moore College of Art and Design. She has taught for UC Santa Cruz, the Academy of Art University, and more. Sharon has traveled and worked internationally as a visiting artist and artist in residence at the: Kala Art Institute in California, Academie Beeldende Kunsten and Frans Masereel Centrum in Belgium,and the Nagasawa Art Park in Japan. She has co-founded multiple events celebrating LGBTQx and women's communities, such as the Aloha Pride and Like a Girl Street Festivals. Currently she is the founder of IncuArts Gallery, a gallery dedicated to furthering the work of women identifying, BIPOC, LGBTQ+ identifying, gender non-conforming, and social justice artists.
Sharon will work with Kaululani (Hawaii Field Station).
Proposal Summary: I will document the environmental change in Honolulu over the past 50-100 years, specifically the loss of green space. I will gather images of the past through archives and public participation, and project those images across the city in/ on their present space/ architecture, documenting the change- creating an outdoor museum/ installation accompanied by an online gallery that includes solutions to offset the impact of losing green space.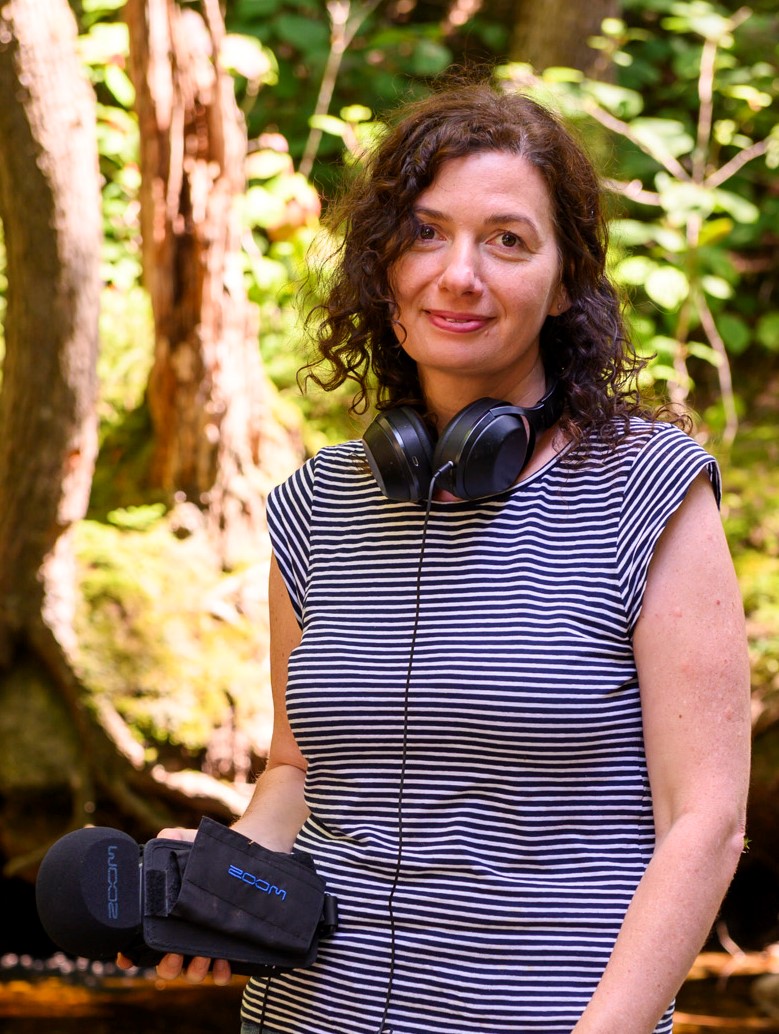 Nikki Lindt
BIOGRAPHY
Nikki Lindt, born in the Netherlands, is a NYC based artist working primarily in the mediums of painting, video and (underground) sound. She often works in collaborations, among others with scientists, philosophers and sociologists to examine climate change at the intersection of art, science and culture. MFA from Yale and her BFA from Gerrit Rietveld Academie in Amsterdam.
Nikki will work with New York Parks FHNR Conservation Team and the USFS' City Trees, Country Trees, Smart Forests project.
Proposal Summary: I propose to explore above ground and underground sound in NYC, focusing on the sound gradient of underground sounds in an urban setting all the way through to a (city) forest. I would like to create a sound walk where participants can explore the rich world of sounds that exists beneath our feet.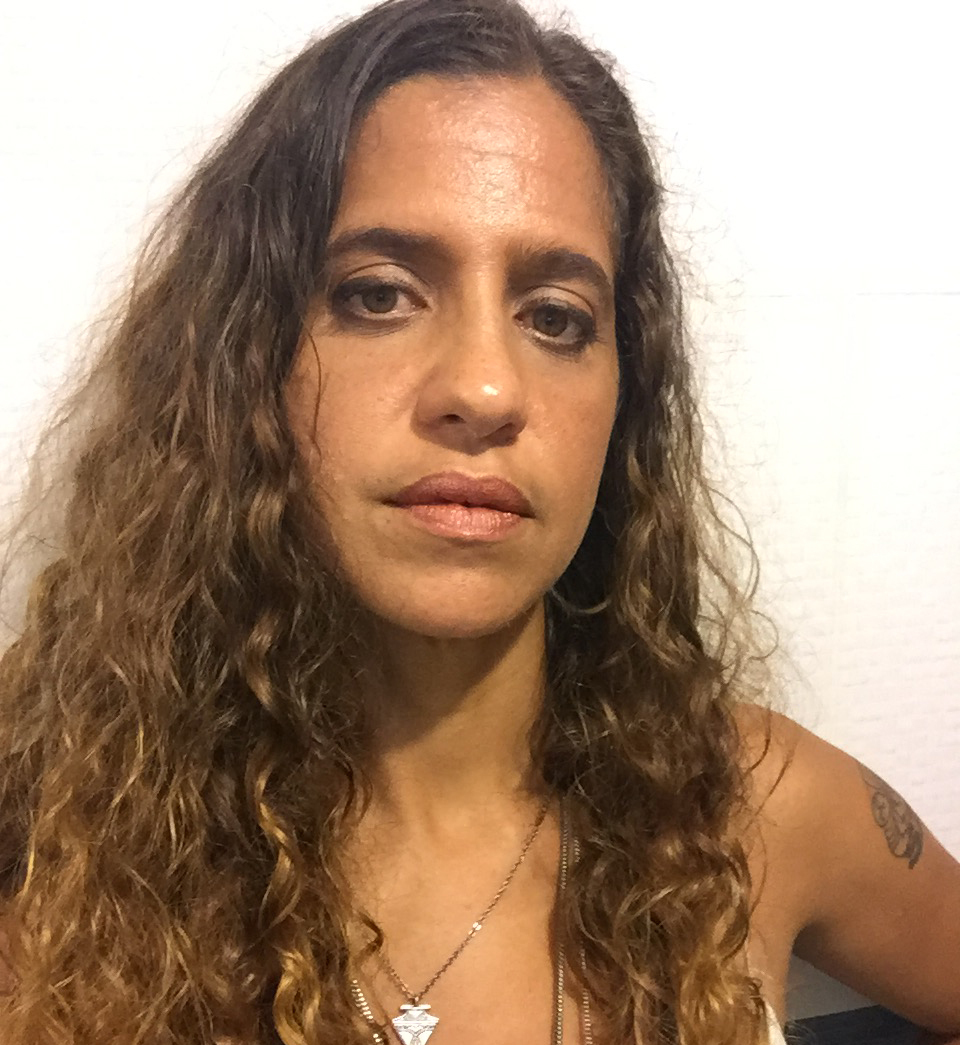 Kilia Llano
BIOGRAPHY
Kilia Llano is a multimedia artist born in Santo Domingo, Dominican Republic and currently working in Painting, Urban Art (murals), drawing, installations and digital art. My work is based in identity, how we as a culture address nature and how our surrounding is related to who we are. I studied Fine Arts and Illustration at Altos De Chavón School Of Design (1992) and also got a bachelor degree in Fine Arts and Illustration at Parsons School Of Design (1994), NY among others minor studies at Universitat De Barcelona (Art History) and Unibe University (Art Education) at Santo Domingo. I've been painting in the street for almost 10 years in the Dominican Republic but also United States, Colombia, Spain and Italy.
Kilia will work with the USFS's International Urban Field Station, San Juan.
Proposal Summary: Migration is an urban art project which consist in the making of two murals in the city of Santo Domingo in the Dominican Republic. The first mural is inspired in the concept "City trees are indispensable for a positive quality of life of the residents of Santo Domingo and preserves our birds and also the birds that migrate here", which is connected to the second mural called migrations, the journey of some species of birds that migrate from Alaska to the Dominican Republic, showing that human beings are connected to each other through nature.
The Urban Field Station Collaborative Arts Program is a residency created by the USDA Forest Service, NYC Parks, and The Nature of Cities. Selected artists engage with land managers and researchers to better understand, represent, and communicate about urban social-ecological systems through works of art and imagination. The program's mission is to promote understanding of and engagement with urban ecology through art. The Urban Field Station Network understands cities as social-ecological systems, and this year's call for artists focuses on the theme of connectivity.
Specifically, the Urban Field Station Collaborative Arts Program seeks to build creative explorations of new knowledge by: (1) Facilitating creative and transdisciplinary collaboration between artists, scientists, and land managers in the creation of new artworks; and (2) Curating events and public engagements that explore ideas that emerge from creative works and collaborations resulting from the program. There are no limits to the types of artistic approaches.
Prior Cohorts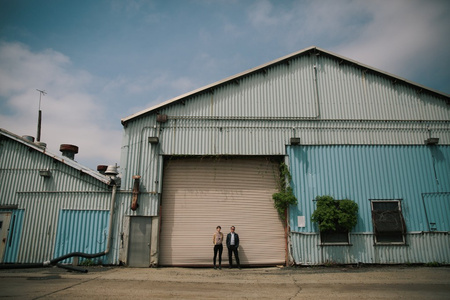 Dylan Gauthier
BIOGRAPHY
Working in a range of media including sound, performance, video, sculpture, architecture, and photography, Dylan Gauthier's research-based and collaborative projects explore the intersections between ecology, architecture, landscape, and environmental justice. Gauthier's individual and collective projects have been exhibited at the Centre Pompidou, Musée national d'art moderne, the Parrish Art Museum, CCVA at Harvard University, the 2016 Biennial de Paris (Beirut), (New York:) the Center for Architecture, The International Studio and Curatorial Program, the Chimney, the Neuberger Museum at SUNY Purchase, Columbus College of Art and Design, the Walker Art Center, EFA Project Space, and other venues in the US and abroad. His writings about art and public space have been published by Contemporary Art Stavanger, Parrish Art Museum, Urban Omnibus, Art in Odd Places, and Routledge/Public Art Dialogue, among others. In 2015 he was the NEA-supported Ecological Artist-in-Residence at the International Studio and Curatorial Program (ISCP); in 2016 he was a Socrates Sculpture Park Emerging Artist Fellow (NY), and in 2017/18 he was the inaugural Artist-in-Residence at the Brandywine River Conservancy and Museum of Art. In 2018 he is a resident at Shandaken Projects at Storm King and was a visiting artist at NYU Abu Dhabi. He co-curated (with Kendra Sullivan) the exhibition Resistance After Nature at Haverford College in 2017 and Beyond Species/Beyond Spaces at Cape Cod Modern House Trust in 2018. Gauthier received his MFA in Integrated Media Arts from Hunter College, CUNY, and has taught courses on emerging media in the Department of Film and Media Studies, and on environmental design at Parsons/The New School. Gauthier is a founder of the collective Mare Liberum, and of the Sunview Luncheonette, a co-op for art, politics, and communalism in Greenpoint, Brooklyn. He is co-organizer, with Mariel Villeré, of Freshkills Field R/D, an artist-research residency based at NYC's largest former landfill. He was recently named artist-in-residence at the New York City Urban Field Station and was an Eyebeam Rapid Response fellow in 2020. He is the Director of the Elizabeth Foundation for the Arts Project Space, a 501c3 non-profit gallery devoted to experimental practices in the visual arts in Midtown, NYC.
Julia Oldham
BIOGRAPHY
Julia Oldham is an artist and storyteller who was raised by a physicist, a rock hound and a pack of dogs in rural Maryland. Born the same year as the Three Mile Island nuclear accident, Oldham has been consumed by scientific curiosity her entire life, and has sought through her work to understand the unknowable and transcend humanness. She blends digital media and drawing to tell stories that she finds both troubling and beautiful, ranging from the historical tale of Laika the Soviet Space Dog's journey into orbit to science fiction visions of a post-apocalyptic future world populated by high-tech chihuahuas. She received her MFA from the University of Chicago and currently lives and works between Eugene, OR and Brooklyn, NY. Oldham has exhibited her work and participated in residencies internationally, with recent solo shows and screenings at BRIC in Brooklyn,NY; the Northwest Film Center at the Portland Museum of Art, Portland, OR; and the Royal Nebaker Gallery in Astoria, OR as part of the 2016 Portland Biennial. For her latest project she traveled to the Chernobyl Exclusion Zone in Ukraine to make a film about the stray dogs that live there. Julia Oldham's project "Undiscovered City" is a series of altered 360-degree landscapes of New York City that illustrate the dreams of current park volunteers for a future city. She will interview park volunteers and other civic stewards citywide and listen to their ideas for an ideal future city that blends nature and urban landscape in profound ways that are not technologically possible yet. Using the tropes of both post-apocalyptic video games and high-tech architectural concept art, she will translate their dreams into visual reality, with the ultimate goal of making these undiscovered cityscapes available online to the public.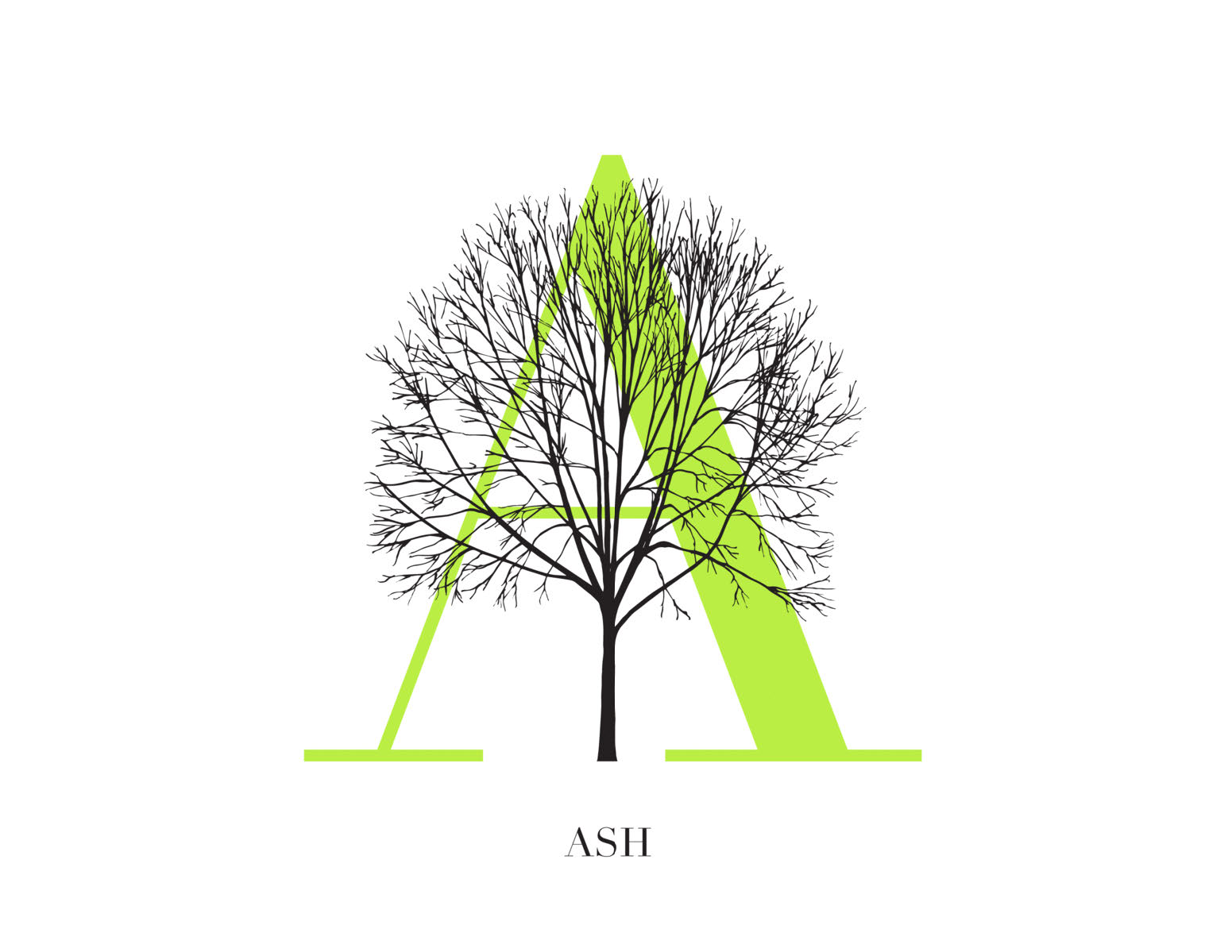 Katie Holten
BIOGRAPHY
Katie Holten is a visual artist based in New York. She grew up in rural Ireland and studied at the National College of Art & Design in Dublin, the Hochschule der Kunst in Berlin, Cornell University in New York, and the Santa Fe Institute.
In 2003 Holten represented Ireland at the 50th Venice Biennale. She has had solo museum exhibitions at the New Orleans Museum of Art (2012); Dublin City Gallery The Hugh Lane, (2010); The Bronx Museum, New York (2009); Villa Merkel, Esslingen, Germany (2008); Nevada Museum of Art, Reno (2008) and the Contemporary Art Museum St. Louis (2007).
Deeply committed to social causes, especially as they pertain to environmental issues, she makes drawings, sculptures, installations, books, public artworks and ephemeral actions that function as poetic alterations to the everyday. Holten often works on site to explore the history, ecology, and other invisible aspects of an environment. At the root of her practice is a fascination with the contingency of life's systems – organic and man-made – and the inextricable relationship between man and the natural world in the age of the Anthropocene. Recognizing a crisis of representation as our species adapts to life in the Anthropocene, her book About Trees considers our relationship with language, landscape, and perception. She created a Tree Alphabet and used it to translate a compendium of well known, loved, lost and new writing. The result is an astonishing fusion of storytelling and art, which celebrates trees and our understanding of them, their past and their future, their potential and their ubiquity.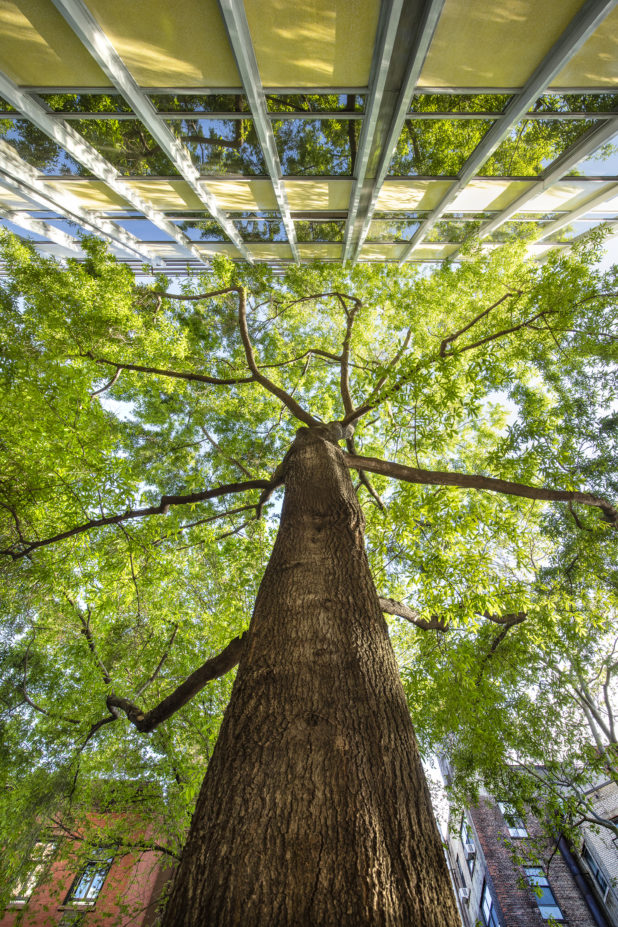 Matthew López-Jensen
BIOGRAPHY
Matthew Jensen's multi-disciplinary practice combines photography with walking, collecting and rigorous site-specific explorations of landscapes. His projects strive to connect people to places by expanding the traditions of landscape photography to include a range of mediums and actions. Each body of work develops from time spent in publicly accessible landscapes or by examining the way different technologies transform this experience.
In 2016 he was awarded a Guggenheim Fellowship in photography and a Peter S. Reed Foundation grant for photography. He has received support from the National Endowment for the Arts for his projects Park Wonder in 2016 and The Wilmington Center for the Study of Local Landscape in 2013. His photographs are in major public collections, including the Metropolitan Museum of Art, the National Gallery of Art and the Brooklyn Museum. In 2015 his solo show, Feels Like Real, debuted at Yancey Richardson Gallery in New York. His site-specific projects and walks have been supported and commissioned by the High Line, the Queens Museum, Kenpoku Art Festival, the Brandywine River Museum of Art, the Delaware Contemporary, Storm King Art Center, Wave Hill, and Brooklyn Bridge Park, among others.
Jensen is part-time assistant professor of photography and studio art at Parsons School of Design at the New School. He received his MFA from the University of Connecticut and BA from Rice University.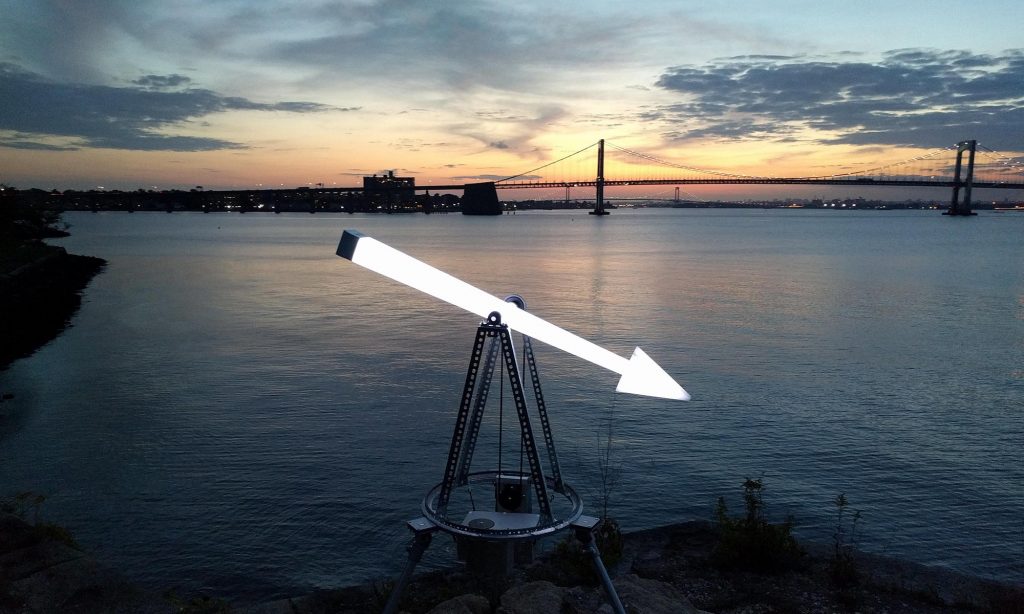 Heidi Neilson
BIOGRAPHY
Heidi Neilson is an interdisciplinary artist interested in giving visual and sensible form to the connections between people on the ground and above-earth conditions and infrastructure. Her work includes, recently: Ground Station, a project exploring the detection and use of earth-orbiting satellites using ham radio techniques; SP Weather Station, where weather data-gathering instruments serve as a hub for various activities addressing earth's atmosphere; and Menu for Mars Supper Club, a series of events to envision and emulate cuisine on Mars. Her often collaborative and publishing-based work is included in over 60 museum and university collections, and her activities have received support from many organizations for exhibitions, production, publication, residencies, and travel, including: the Art Matters Foundation, the Bronx Museum of the Arts, the Center for Book Arts, the Klondike Institute of Art and Culture, the Lower Manhattan Cultural Council, New York City Department of Cultural Affairs, the New York Foundation for the Arts, Queens Council on the Arts, Wave Farm, and Women's Studio Workshop. Born in Oregon, Heidi and lives and works in New York.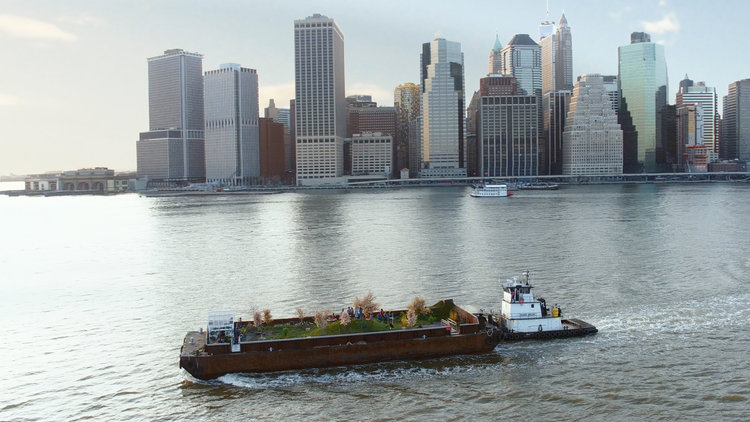 Mary Mattingly
BIOGRAPHY
Mary Mattingly creates sculptural ecosystems in urban spaces. With the NYC Urban Field Station, she is working on a floating food forest for New York called "Swale". She also recently completed a two-part sculpture, "Pull," for the International Havana Biennial with the Museo National de Belles Artes de la Habana and the Bronx Museum of the Arts. Mattingly's work has been exhibited at the International Center of Photography, the Seoul Art Center, the Brooklyn Museum, the New York Public Library, deCordova Museum and Sculpture Park, and the Palais de Tokyo. In 2009 Mattingly founded the Waterpod Project, a barge-based public space and self-sufficient habitat that hosted over 200,000 visitors in New York. In 2014, an artist residency on the WetLand launched in Philadelphia. It is being utilized by UPenn's Environmental Humanities program. She has been awarded grants and fellowships from A Blade of Grass, the James L. Knight Foundation, Eyebeam Center for Art and Technology, Yale University School of Art, the Harpo Foundation, NYFA, the Jerome Foundation, and the Art Matters Foundation.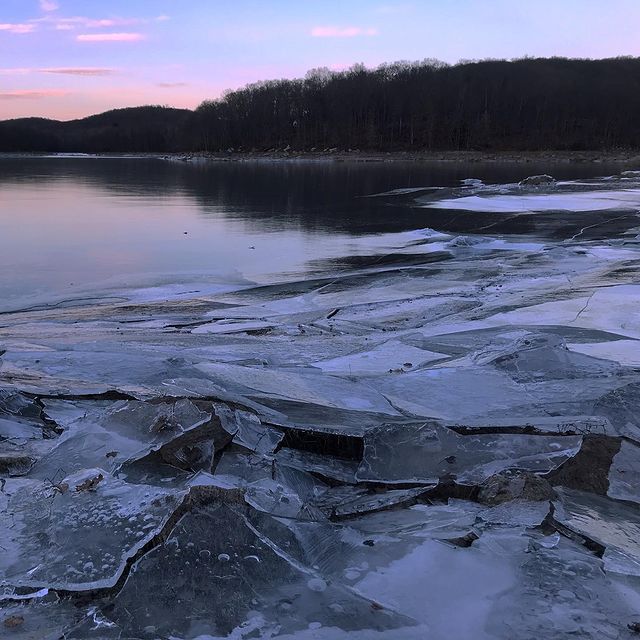 Lize Mogel
BIOGRAPHY
Lize Mogel is an interdisciplinary artist and counter-cartographer. Her work intersects the fields of popular education, cultural production, public policy, and mapping. She creates maps and mappings that produce new understandings of social and political issues. Her work connects the real history and collective imaginary about specific places to larger narratives of global economies. She has mapped public parks in Los Angeles; future territorial disputes in the Arctic; and wastewater economies in New York City. She is co-editor of the book/map collection "An Atlas of Radical Cartography," a project that significantly influenced the conversation and production around mapping and activism. Exhibitions include the Sharjah (U.A.E.), Gwangju (South Korea) and Pittsburgh Biennials, "Greater New York"at PS1, and "Experimental Geography", She has lectured extensively about her work nationally and internationally, including at the 2013 Creative Time Summit. Lize has received grants from the Graham Foundation, the New York Foundation for the Arts, the Jerome Foundation, and the Danish Arts Council. She has been an artist in residence at Headlands Center for the Arts and a Fellow at the STUDIO for Creative Inquiry at Carnegie-Mellon University.
Adam Stoltman
BIOGRAPHY
Adam Stoltman is a photographer, editor, media developer and consultant who has been involved in traditional and digital media for over 30 years. At the New York Times Magazine, he was part of the team which produced award-winning visual coverage of world events including the Fall of the Eastern Bloc, the First Gulf War, Tiananmen Square and the oil fires in Kuwait. At the daily newspaper, he was instrumental in the transition from analog to digital production processes for the photo report. His photographic work has appeared in most major publications. He has covered 12 Olympic Games, and has also photographed long term feature stories on cultural figures and artists, including Maya Lin, and Leonard Bernstein. Some of his work is in the permanent collection of the George Eastman House International Museum of Photography and Film, in Rochester, New York. He has also worked for, and with companies such as Time Warner, Eastman Kodak and The Walt Disney Company, and has advised cultural organizations, foundations and corporates on the intersection of content, culture and technology. In the late 1990's, he co-founded and co-published Journal E, an award-winning online publication, and one of the first to regularly present streaming media content on the internet. Presently he is working on a long term photographic documentation project on the relationship between Parks and People in New York City.
Recent ideas from the artists:
Exhibitions and Events
City as Ecosystem: NYC Urban Field Station Artist Residency
NYC Parks Arsenal Gallery | September 13 – November 23, 2018
The New York City Urban Field Station brings art and science together with their Artists in Residence program to foster new ideas and programs about urban conservation, environmental stewardship, land management, and community resilience. By engaging artists in thinking about social-ecological systems and natural resource management, the program applies creative approaches to make complex systems and concepts more accessible. This exhibition highlights projects explored in a variety of media by UFS resident artists Katie Holten, Matthew López-Jensen, Mary Mattingly, Lize Mogel, Heidi Neilson, and Adam Stoltman. The NYC UFS is a partnership between The USDA Forest Service, NYC Parks, and the Natural Areas Conservancy.
Photographs by Daniel Avila, NYC Parks
Who Takes Care of New York?
This interactive exhibition–originally mounted at the Queens Museum in 2019–highlights the stories, geographies, and impacts of diverse civic stewards across New York through art, maps, and storytelling. It was remounted in 2020 as part of TNOC's virtual exhibit series.
'Pathways to Inspiration' discusses how nature, the arts, and education intersect and promote meaningful connections with our local environment, moderated by Mary Miss from City as Living Laboratory, with a very special introduction led by Urban Wilderness explorer Jean Gardner of The New School. Speakers included Meredith McDermott (Director of Sustainability at NYC Dept. of Education), Dylan Gauthier (2019 NYC Urban Field Station Artist in Residence), Mariel Villeré (Program Development Director, Office of Academic Initiatives and Strategic Innovation at the CUNY Graduate Center), Sarah Aucoin (Chief of Education and Wildlife, NYC Parks), and Catherine Grau (Public Programs Coordinator, Queens Museum).
Nature provides us with the inspiration for art and the material to learn about life, systems, and ourselves. Despite hundreds of years of development, NYC is abundant with nature and rich in public parkland, where people recreate, clear their heads, and connect with nature. Nature also acts as a living laboratory where teachers and students, as well as the public, are learning important lessons that reinforce STEAM (science, technology, engineering, art, and math) education and nurture creativity.
Biocultural Stewardship: Transforming our Urban and Community Forestry Practices
Diverse perspectives and approaches to learning and knowing can strengthen our work in urban and community forestry. Indigenous and local knowledge is embedded in the concept of biocultural stewardship – an approach to working with communities recognizing that the stewardship of place is inseparable from the stewardship of people, and that cultural resources are as important as natural resources. A shift towards biocultural stewardship can help cultivate sustainability and well-being in communities undergoing rapid environmental, social, and climate changes. In this presentation, we explore the concept of biocultural stewardship and how it can be applied to different geographical contexts and culturally distinct communities, including urban settings.
About Us
Urban Field Stations exist as a network of sites supported by the USDA Forest Service in collaboration with municipal, state, nonprofit, and academic partners across the United States. The Urban Field Station Network is interested in bringing new perspectives, unique planning and design ideas, and creative problem solving from the arts and humanities to advance our collective understanding and management of social-ecological systems in New York City and beyond.
The program's mission is to promote understanding of and engagement with urban ecology through art. The Urban Field Station Network understands cities as social-ecological systems. Specifically, the Urban Field Station Collaborative Arts Program seeks to build creative explorations of new knowledge by facilitating artists' engagement with land managers and researchers to better understand, represent, and communicate about urban social-ecological systems through works of art and imagination, as well as curating events and public engagements that explore ideas that emerge from creative works.
We are attracted to artists interested in creating works of collaborative imagination about urban environments and investigations of new knowledge that may emerge from the frontiers where art, science, and practice meet. We recognize that the course of the program may not result in the immediate production of new work, therefore while the creation of new work is welcome, it is not a requirement.
In addition to the Collaborative Arts Program, we organize virtual and in-person public events, including exhibitions, seminars, webinars, and brown bag talks as part of our Science of the Living City program.